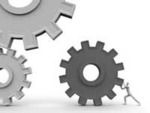 You don't have the time to wait for competent personnel is acquired and trained? Or do you need to expand your team with a temporarily specialist? Then you need a contractor who has sufficient knowledge of your industry, has the competencies needed for the job and therefore is able to solve your problem soon.
Interim professionals can temporary fill the gaps in your project, management team or middle management. Basically an interim professional works for you as an contractor and will again leave your organization after finalization of the activities he is appointed to.
Approach
Our interim professionals are highly qualified in order to fill your position without an induction period and can connect seamlessly with the needs of the organization. They are standing with both feet on the ground and have a proven track record.
We conduct our project assigments as an all-round partner for supply chain improvements – from advice to implementation, from training to coaching - in cooperation with an exclusive network of self-employed supply chain professionals, who have earned their stripes in supply chain management.
We do so by drawing inspiration from the possibilities we see, by looking just that little bit further. By not allowing ourselves to become distracted by details and symptoms. By making things as simple as possible, but not simpler.
If you are interested or want to know more? Please contact us for an informal chat.