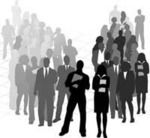 Is your project based on unclear, constantly expanding amount of work, which takes at least twice as much time and three times as much money as originally was budgeted and finally delivers half of the desired results? In that case appointing an external project and/or program manager can be your solution.
The project/program manager acts as a catalyst to initiate the project and to achieve the desired result, not being disrupted by day-to-day firefighting in the operational organziation. Mutatis Mutandis ensures that your project is being realized, and that your organization gets from A to Better. We typically begin at the point where others do not expect to succeed.
Approach
Mutatis Mutandis considers each project as a process that should deliver a certain result. We consider the activities to be executed in the project as a "black box" with defined deliverables. In managing the deliverables we focus on input, output and bottlenecks of that 'black box" and adjust where necessary. Because we bring specific knowledge, have natural curiosity and apply thinking process, we are often involved in projects with complex or innovative character.
As the starting point in managing projects, we use a pragmatic Prince2 approach. This means that we will adhere to a specified Business Case and on-the-road we will judge whether the objectives of the Busines Case criteria are still being met. Reporting tools, such as issue lists, risk progress and deviation reports, are being used. Important in our philosophy is that the desired result should be leading, not the methodology. As every project is different, we therefore will use depending on the situation, the resources from the Prince2 toolkit. Thus a pragmatic approach.
We conduct our project assigments as an all-round partner for supply chain improvements – from advice to implementation, from training to coaching - in cooperation with an exclusive network of self-employed supply chain professionals, who have earned their stripes in supply chain management.
We do so by drawing inspiration from the possibilities we see, by looking just that little bit further. By not allowing ourselves to become distracted by details and symptoms. By making things as simple as possible, but not simpler.
If you are interested or want to know more? Please contact us for an informal chat.