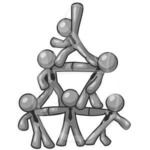 Who aspires high quality requires a great wealth of ideas. Person-oriented subject-specific training is in our opinion the basis for providing the required high quality levels. Our training approach connects theory and practice and contains of a wealth of knowledge. Developing real understanding of underlying mechanisms provides a more lasting learning experience.
Mutatis Mutandis is specialized in personalized logistics training and coaching, based on the APICS Operations Management Body of Knowledge (OMBOK) Framework. Our focus is on quality of training, practical application and personal guidance. A personal and affordable approach is one of significant importance.
As APICS strongly supports and stands behind the quality of its Instructors, Mutatis Mutandis only works with Master Instructors who have enhanced instructors' skills and provide the resources to deliver the highest quality instruction of the APICS body of knowledge.
Approach
The basis of our training is to transfer knowledge in order to raise the competence level of the employee. This may, but need not always result in personal certification. Objective is to provide the knowledge in such a way so that the student is challenged to think and dare to ask critical questions. The participants should be made aware that there are more ways of approaching the subject. Goal is to encourage changes in behavior, skills and beliefs.
Mutatis Mutandis intends to be a partner which is maximizing the current strengths of your employees. We see professional development as a continuous process which is more than to attend a training course. Personal certification can be the target of a training or education program, but that is not always the case. In several projects, we have combined the training with an improvement project where participants worked on a solution of a problem within their company.
Mutatis Mutandis does provide customized in-house training sessions, in order to strengthen the logistics knowledge in a specific field. We are strong in the development and delivery of logistics training and training concepts, national, in-company, and internationally.
Mutatis Mutandis, the training specialist in Operations- and Supply Chain Management. With over 20 years' experience in education and training we offer professional assistance in completing your request.
If you are interested or want to know more? Please contact us for an informal chat.