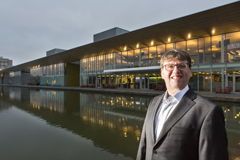 Paul Denneman is specialist in Logistics and Supply Chain Management. After completing his Masters "Industrial Engineering and Management Science" at the Eindhoven University of Technology, Paul has established his name in the logistics world.
Paul is active as an instructor, consultant, senior project/program manager and interim supply chain professional. He is strong in project-driven change in complex environments. His focus is on implementing changes in environments where legislation and government regulation are the main constraints. He operates on the cutting edge of logistics and IT.
In 1993, Paul Denneman started Mutatis Mutandis, an independent consultancy firm that intends to make a contribution to improve logistic and supply chain processes. In the past years, Paul has executed various consulting, training and interim assignments in a wide range of companies.
Paul is an experienced energetic and result driven Senior Interim/Project/Program Manager who is strong in project based change processes. His focus is on changing complex supply chains in environments where regulations or legislations are major constraints. He has an extensive knowledge of logistical and supply chain processes in international multi-client ERP environments. Moreover he is a subject matter expert in translation of business requirements into (ERP) system re-quirements and has a good knowledge of different ERP systems.

Paul is an experienced (project) manager of complex, new and knowledge extensive operations and with leadership qualities in coaching and managing of (technical) professionals, especially Supply Chain Professionals. Paul is pro-active , hands-on mentality and self-starter.
Paul worked as a Logistic Manager in electronics assembly, Project Lean Logistics at Kühne & Nagel. Program Manager and Business Unit Manager at MARC Global (now RedPrairie / JDA). As an interim professional, he has worked for several leading organizations including Hospira / Pfizer, Intervet / MSD Animal Health, Stryker, Phoenix Pharma, Maersk Logistics, Philips, Scandinavian Tobacco, Ultimaker, Flex / Lenovo, Province of South Holland and others.
Paul is an inspiring and demanded (international) APICS master instructor focussing on the APICS Certification Programs (CLTD, CPIM, CSCP). In addition, Paul is Associate Instructor Principles of Operations Management, Lean Enteprise, Global Sourcing and Instructor Training. Paul has joined the very select group of instructors who can take care of all APICS certification programs. He was a (chief) editor and author for different publishers.
Paul is Master APICS® Instructor and CLTD®, CPIM®, CSCP®, Prince2® and ITIL® certified and has experience in the high-tech, spare parts, pharmaceutical and medical devices industry. He was till 2017 president of the Dutch Association of Logistics Consultants (VELA).
It is not Paul's intention "to teach tricks". His vision is to do the right things right, because we want to understand how it works. In his view, there are no standard problems with standard solutions. Therefore he is an out-of-the-box thinker and he often comes up with innovative ideas.
As a person, Paul result-oriented, process-oriented, socratic and always looking to improve and make the neccessary changes. Paul's greatest passion outside the logistics field has been singing classical (choral) music. Obviously, he does so at the same high level as his professional activities. Paul lives in Eindhoven.
If you are interested or want to know more? Please contact me for an informal chat.