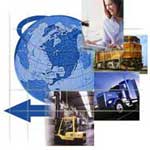 Changes in the supply chain often have serious consequences how a company can operate efficiently and effectively. Adjustments in organization, processes, information systems and logistics network are often necessary to continue to deliver the right performance. Especially in supply chains where legislation and (government) regulation is involved, this is a complex change proces.
Mutatis Mutandis (Latin for: with the necessary changes) focuses on supporting and implementing these changes, in which we focus on the dependency between processes, systems and people and always keep the intended improvement goal in mind.
Typically, our clients are involved in supply chains for control of the supply is essential. They are characterized by supply chains which
is their core competency;
provide them a competative advantage
holds complicating elements related to for example regulation, legislation and/or quality requirements.
The sectors in which we operate are industry, logistics and distribution companies, and in particular in high tech, medical and pharmaceutical environments where legislation and regulation play an important role. Most of our clients are multinational companies.
Assignments we take can be either:
advising on operations/supply chain management topics,
provide supply chain and operations management training,
act as project/program manager
support implementations as an interim professional/manager.
In several assignments a combination of the different roles is being applied.
Are you interested or do you want to know more? Please contact us for an informal chat.