Details

Written by Paul Denneman

Paul Denneman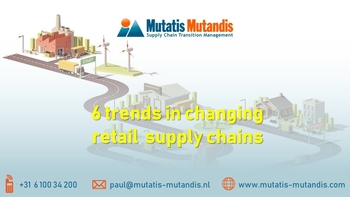 The rise of eCommerce and fulfillment did change the retail landscape dramatically in the past decade.
Online was the trend and fulfillment centers dominating the world of distribution. Downside was that traditional retail relying on offline networks (physical stores) struggled and several went bankrupt.
Are the current eCommerce business models still valid?
6 trends which indicate that there are changes upcoming, which will redefine the current landscape and will have impact on current supply chains.
What's next?
In summary, the future proof retailer will have a cross border operation which combines offline and online shopping. When the online model is dominating, the focus will be on convenience shopping, with broad assortments. In case of a dominating offline model, the focus will be on low cost (discount) or product/brand specialization.
Efficiency and cost saving will be achieved in the near future on the level of minimizing returns, offering premium transport services, and reduction of transport and storage cost by using drop shipments.